Contact
Contact Us. All You Have to Lose is the Pain.
Dr. Kimberli Trader
office@yellowwoodchiro.com
Phone Number: 920.202.5741
Fax Number: 920.569.2951
Office Hours: 
Monday
9:00 am
 – 5:30 pm
Tuesday
9:00 am
– 2:00 pm
Wednesday
9:00 am
 – 5:30 pm
Office hours are subject to change without notice.
5497 Waterford Lane, Suite D
Appleton, WI 54913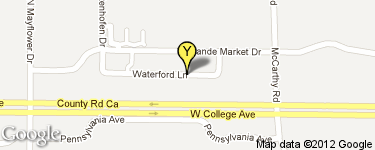 Located by the Fox River Mall in Appleton. From Highway 41, take the College Ave. exit. Turn west off the freeway and continue on College Ave. for approximately 1 mile. Turn right onto McCarthy Road. Take your first left onto W Grande Market Drive. Take your first left onto Waterford Lane. Follow to the 5497 building, which will be on your left. Drive around the back of the building and you will see the entrance.